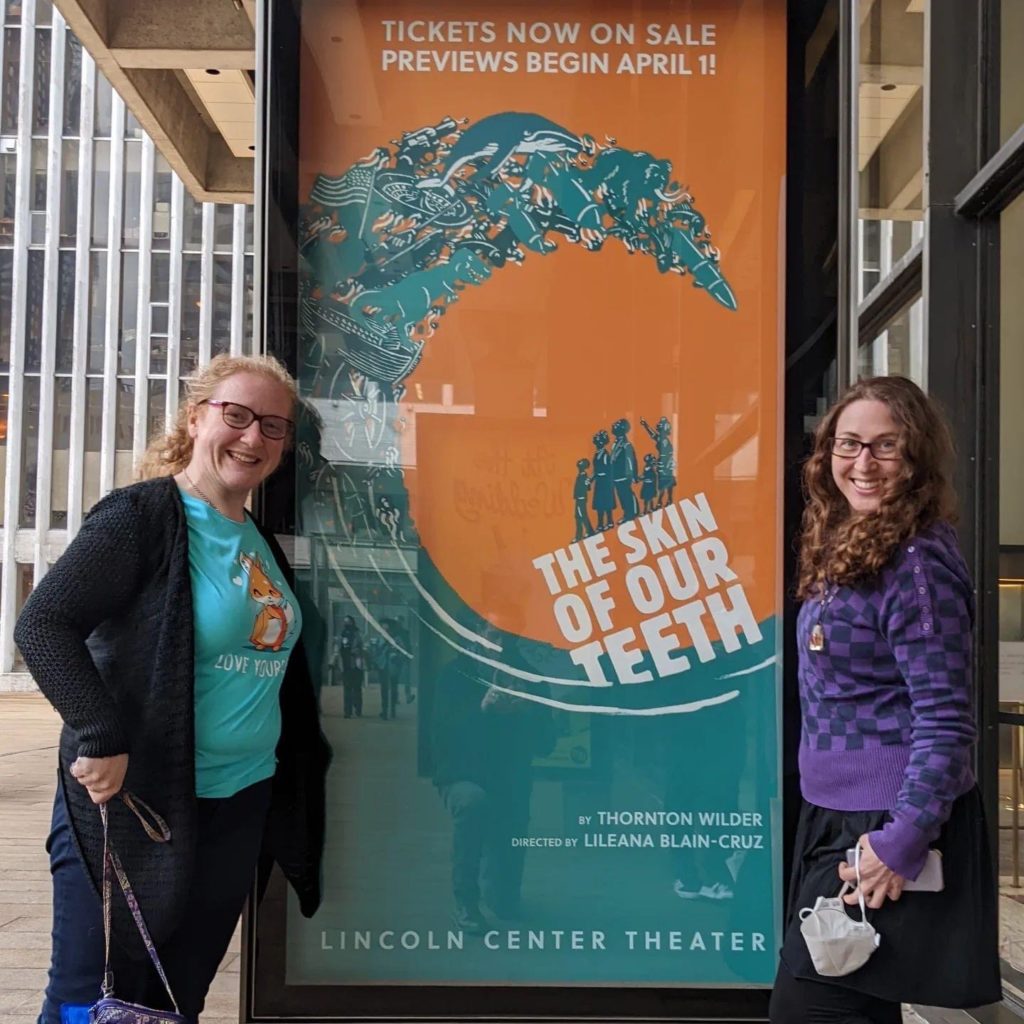 Last year I saw 36 shows. This year I also saw 36, so the same as last year's drop. 22 of those were in person, 2 outdoors. While I did see more in person shows than streaming this year, I was very thankful for the opportunities to watch streaming shows.

I performed/read in the 3 Thornton Wilder Society readings. 1 show was connected to an article I wrote, although I did not know it at the time. I watched 3 operas (last year it was 7).

I have highlighted my favorites, although it's kind of arbitrary, everything felt equally good this year. And after the favorites is the HUGE list of everything I saw. Then, I have listed some fun panels, exhibits, and events I also attended this year.
Top 10 Favorites (in no order, I swear):
The Skin of Our Teeth (Lincoln Center Theatre)
Be Like Joe (University of Wyoming)
A Strange Loop
The Magnificent Seven (Theatre Row)
Twelfth Night (Classical Theatre of Harlem)
Los Otros (Premieres/ART New York)
Camp Siegfried (Second Stage Theater)
Becky Nurse of Salem (Lincoln Center Theater)
A Man of No Importance (Classic Stage Company)
Oratorio for Living Things (Ars Nova)
Runners Up (Also in no order):
Company
The Tap Dance Kid (New York City Center Encores)
The Hang (HERE)
Prayer for the French Republic (MTC)
In the Time of Butterflies (Harlem Stage/Repertorio Espanol)
The Theater Lovers: Couple Goals (Green Room 42/Livestream)
Suffs (The Public Theater)
Mr. Saturday Night
Harriet Tubman: When I Crossed that Line to Freedom (AOP)
Parade (New York City Center Encores)
MAC BETH (Red Bull Theater)
The Big List:
The Skin of Our Teeth (Everyman Theatre)
The GMTW Pandemic Project: Twenty Twenty Part Two (GMTWP)
Company
The Tap Dance Kid (New York City Center Encores)
Back to Broadway Cabaret (Everybody's Theater Company)
Men I'm Not Married To (Cleveland Opera/YouTube)
Trumpet/The Trumpet Shall Sound (Thornton Wilder Society Reading)
The Hang (HERE)
Prayer for the French Republic (MTC)
In the Time of Butterflies (Harlem Stage/Repertorio Espanol)
Written in Stone (The Kennedy Center)
The Theater Lovers: Couple Goals (Green Room 42/Livestream)
The Skin of Our Teeth (Lincoln Center Theatre)
Suffs (The Public Theater)
Be Like Joe (University of Wyoming)
Mr. Saturday Night
A Strange Loop
Oratorio for Living Things (Ars Nova)
Funny Girl
MAC BETH (Red Bull Theater)
Tina: The Tina Turner Musical)
From Babies to Bubbies: Yiddish Philharmonic Chorus (Merkin Hall)
Richard III (Public Theater/Shakespeare in the Park)
The Magnificent Seven (Theatre Row)
Twelfth Night (Classical Theatre of Harlem)
The Alcestiad (Thornton Wilder Society Reading)
Funny Never Gets Old (Frigid New York)
Harriet Tubman: When I Crossed that Line to Freedom (AOP)?
Los Otros (Premieres/ART New York)
Parade (New York City Center Encores)
Vatican Falls (The Tank)
Camp Siegfried (Second Stage Theater)
Becky Nurse of Salem (Lincoln Center Theater)
A Man of No Importance (Classic Stage Company)
The Long Christmas Dinner (Thornton Wilder Society Reading)
Me, Myself, and Barbra (Green Room 42/Livestream)
Miscellaneous Panels, Exhibits, and Events:
The Creative Process: Liza Minnelli, John Kander, and Fred Ebb (NYPL)
Nicolas Party: L'heure mauve (Montreal Museum of Fine Arts)
Laurie Anderson: The Weather (Hirshhorn Museum)
Toyin Ojih Odutola: A Countervailing Theory (Hirshhorn Museum)
Broad Street Run
THE WALK! 22!
GMTWP Sessions
Harlem 5K
Disneyland
5th Avenue Mile
Morris Arboretum
Mass MoCA (Laurie Anderson)
Mount Greylock
Emily Dickinson House/Museum
Eric Carle Museum of Picture Book Art
Three Sisters Sanctuary
Betsy Ross House
Magic Gardens
Keith York City Harlem Tour