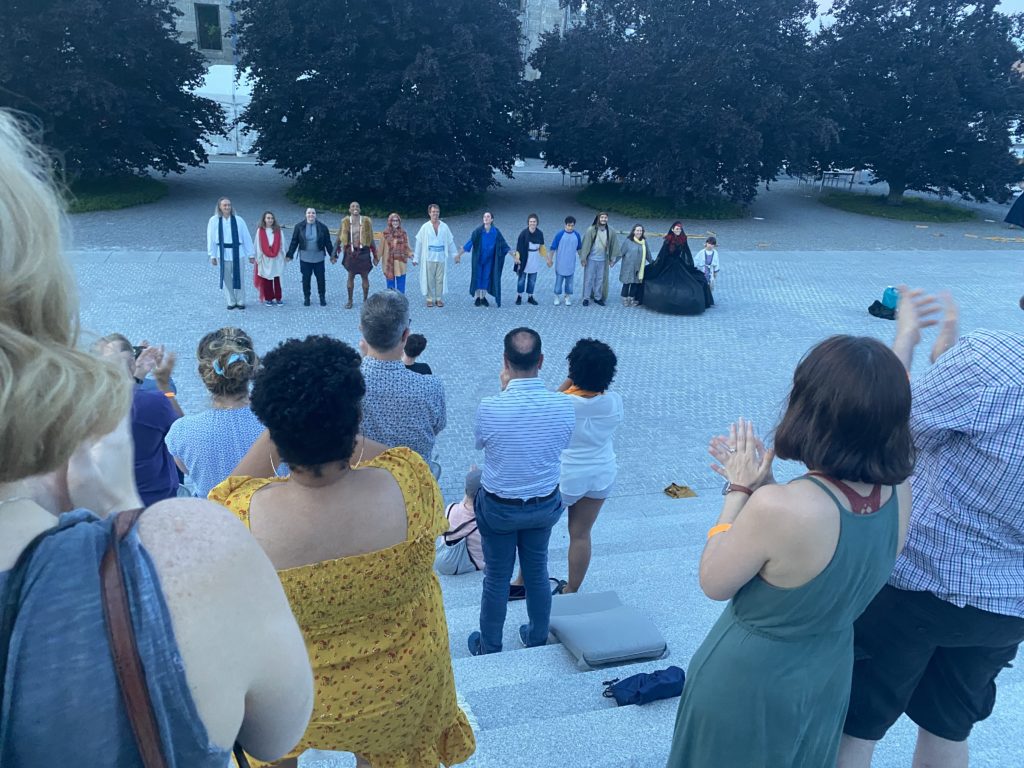 Last year I saw 87 shows. This year I saw 36. 4 of those were in person outdoors (one an outdoor screening of an opera). Last year I watched 65 streaming shows. I'm not sure why that slowed down this year. Maybe there were fewer of them. Maybe I got tired of watching so many. Maybe I had less time. Indoor theater did come back in the fall, but I didn't go to it. There was a lot I wanted to see, though.

I performed/read in 4 shows: 7th Annual McGuire & Simon Holiday Salon and the Thornton Wilder Society readings. 0 shows were connected to an article I wrote (1 fewer than last year). I watched 7 operas (last year it was 10). I'm grateful for the in-person pieces that also streamed and the pieces done just for streaming.

I have highlighted my favorites, and after the favorites is the HUGE list of everything I saw. Then, I have listed some fun panels, exhibits, and events I also attended this year.
Top 10 Favorites (in no order, I swear):
The Night Watcher (Primary Stages)
My Joy is Heavy (Arena Stage)
The Matchmaker Reading (ACT)
Our Town Reading (NAATCO)
The Alcestiad (Magis Theatre Company–outdoors in person!)
The Magnificent Seven Concert (Don't Tell Mama/Instagram)
Ryan J. Haddad: Dark Disabled Stories (Lincoln Center Restart Stages–outdoors in person!)
Fire Shut Up in my Bones (Metropolitan Opera/Marcus Garvey Park–outdoors in person screening!)
The Bengsons Larson Legacy Concert (Adelphi)
John Cullum: An Accidental Star (Vineyard Theatre)
Runners Up (Also in no order):
Place (Greenspace NYC)
The Bengsons: The Broken Ear Setlist: Songs from Ohio (St. Ann's Warehouse)
Neat (MTC)
Kristina Wong: Sweatshop Overlord (NYTW)
The Long Christmas Dinner (Thornton Wilder Society)
The GMTW Pandemic Project: Twenty Twenty Part One (GMTWP)
A More Perfect Union (Arena Stage)
Get Happy (East Lynne Theater)
Sanctuary City (NYTW)
NYU/Tisch Advanced Opera Lab: Undiscovered Countries (NYU)
The Big List:
New York Theatre Barn New Works Series 1/13 (NYTB)
Peter Pan: A Musical Adventure (Chicago Shakespeare Theater)
Journey Around My Bedroom (New Ohio Theater)
Place (Greenspace NYC)
APAC Winter Wednesday Series 2/10 (APAC)
Get Happy (East Lynne Theater)
The Night Watcher (Primary Stages)
First Love (Theatre for a New Audience)
My Joy is Heavy (Arena Stage)
A More Perfect Union (Arena Stage)
The Bengsons: The Broken Ear Setlist: Songs from Ohio (St. Ann's Warehouse)
The Ages of Man: Infancy and Childhood (The Thornton Wilder Society)
John Cullum: An Accidental Star (Vineyard Theatre)
Neat (MTC)
The Matchmaker Reading (ACT)
Our Town Reading (NAATCO)
The Alcestiad (Magis Theatre Company–outdoors in person!)
Les Troyens (San Francisco Opera)
The Magnificent Seven Concert (Don't Tell Mama/Instagram)
Ryan J. Haddad: Dark Disabled Stories (Lincoln Center Restart Stages–outdoors in person!)
Frida (Portland Opera)
The Ages of Man: Youth and Rivers Under the Earth (The Thornton Wilder Society)
Ghost Quartet (YouTube)
Twilight: Gods (Lyric Opera of Chicago)
Fire Shut Up in my Bones (Metropolitan Opera/Marcus Garvey Park–outdoors in person screening!)
What's Next: A Celebration of New Musical Theater (The First Presbyterian Church in The City of New York–outdoors in person!)
How to Raise a Freeman (McCarter and Bard at the Gate)
Sanctuary City (NYTW)
NYU/Tisch Advanced Opera Lab: Undiscovered Countries (NYU)
The Bengsons Larson Legacy Concert (Adelphi)
Kristina Wong: Sweatshop Overlord (NYTW)
7th Annual McGuire & Simon Holiday Salon (YouTube/Facebook)
The Long Christmas Dinner (Thornton Wilder Society)
The GMTW Pandemic Project: Twenty Twenty Part One (GMTWP)
The Knock (Glimmerglass Opera)
The Hour of All Things (Son of Semele)
Miscellaneous Panels, Exhibits, and Events:

Unpack­ing the Book: Rachel Bloom and Tovah Feldshuh —  A Conversation Between a (Television) Daughter and Mother (Jewish Book Council)
Maestra Benefit: Amplify
Little Island Opening
Barnard Reunion
Opera America Conference
Interview with Laurie Anderson (WITCiH Festival)
James Lapine and Stephen Sondheim talk (Town Hall)
Counting Crime: A Lecture on the Politics of Crime Data and Its Uses (Haymarket Books)
THE WALK! 21!
ASMAC: Jerry Goldsmith's "Poltergeist"
Laurie Anderson Norton Lectures