Disclaimer: I only rank shows that I watch and I'm not a TV critic. Also, there are some spoilers. Read at your own risk…
Last year I watched a lot of TV and this year, not as much, although this list doesn't reflect the shows I was watching but didn't complete an entire season of yet (Brooklyn 99, Dickinson, Nashville, the Moonlighting rewatch, and some stray episodes of Holey Moley). Last year I watched 16 shows from 2019, and this year I watched 11 shows from 2020. Last year I also watched 8 seasons of series from previous years, and this year I watched 7 seasons from previous years, including one that I watched twice (with two different people), plus a PBS doc, so that evens out. There was a lot that came out this year that I wanted to watch but just didn't get to, but we'll see how 2021 goes. Last year I said that the only show I wanted to watch that year but didn't get to was Russian Doll and I did, in fact, watch that show earlier this year. This year I thought about TV in terms of what was comforting to me, and that was defined by 3 shows/seasons–Fuller House season 3 in the spring, The Babysitters Club in the summer, and Saved by the Bell in December. This year especially it helped to have shows that were light and nice before going to sleep.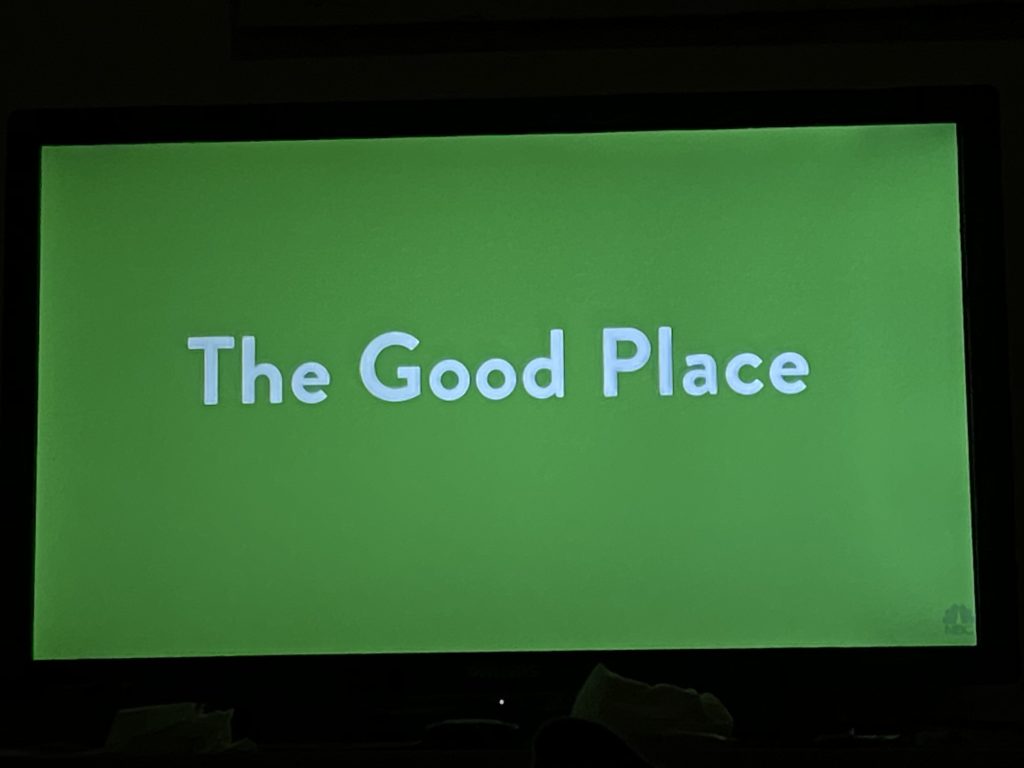 1. The Good Place
There were only a few episodes this year before the series finale, and last year I wrote that I wasn't sure where this could possibly end. But it ended so well! This was really one of my favorite endings to a TV series. I love The Good Place because it's my ideal version of the afterlife (even if they're still tinkering w/ it). Bad people aren't tortured/punished (OK maybe a little) but instead forced to really confront how awful they are. That's what I wish on my worst enemies: self-awareness. And then the finale was my ideal version of what happens at the end of the afterlife.
2. His Dark Materials
I remain so grateful for this series adapatation, especially because they continue to expand upon my favorite character from the books, Marisa Coulter. But I love every character in this story, and this middle book in particular, which I had pretty much forgotten, I'm realizing now was my favorite of the trilogy, I think. I just finished up this series, as the last episode aired in the last week of the year, and I don't know how I'm going to wait for the next season.
3. The Babysitters Club
I wasn't sure how this show could be set in contemporary times and still feel like The Babysitters Club, but they pulled it off! All the updates they made worked, as well, and the cast was spot on. I may be the age of the parents and not the babysitters (even though I still babysit, at least until the pandemic started), but this Babysitters Club definitely filled my heart this summer.
Continue reading