Disclaimer: I only rank shows that I watch and I'm not a TV critic. Also, there are some spoilers. Read at your own risk…
Last year I watched 12 shows from 2021. This year I watched 13 shows from 2022–doing well! Last year I also watched 11 seasons from previous years. This year I watched 14, as well as a entire series rewatches of The Good Place with my family and the Saved by the Bell reboot with my partner.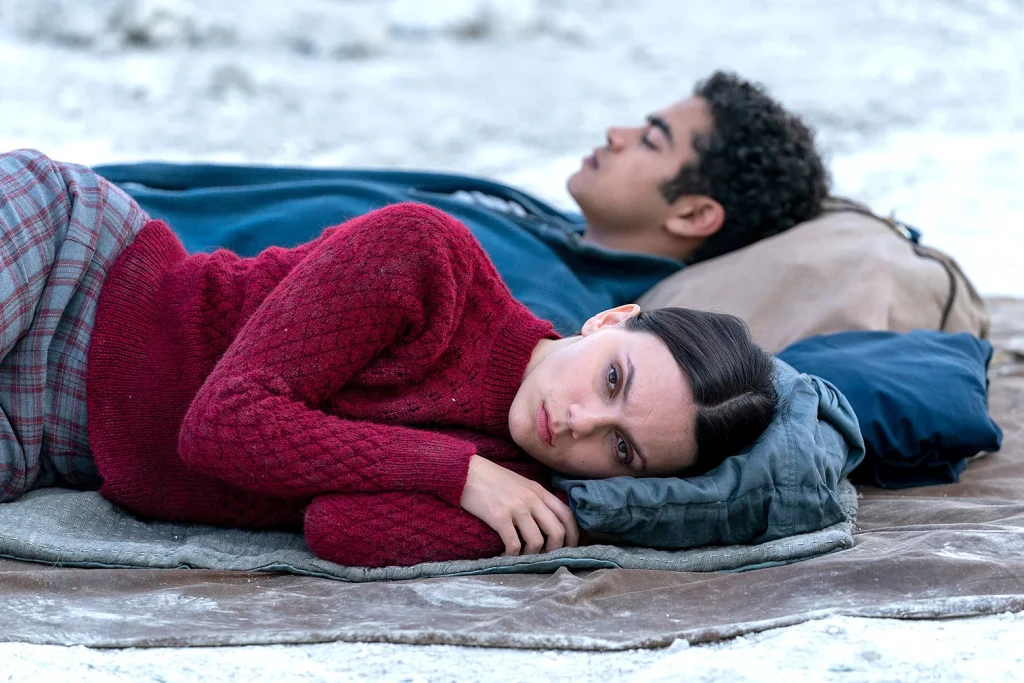 Here are my top 10:
1. His Dark Materials
While the third and final season wasn't perfect or even my favorite season of this limited series adaptation of the His Dark Material books, I am just so grateful for its existence that it has to be number one while it still can. This book series is one of my favorites, second only to A Series of Unfortunate Events, and Marisa Coulter one of my favorite characters not just in the books but in anything. Having Ruth Wilson in this role, though she doesn't look exactly as I pictured Mrs. Coulter (that would be Vivien Leigh), gave me everything I needed from this characer and more. The writers really made this adaptation as much her story as it was Lyra's, with a beautiful character arc that was only really hinted at in the books. I am sad it's over, although I guess they could always adapt more of the His Dark Materials universe books…
2. Firefly Lane
I'm so glad I found this show this year (I found last year's season 1 earlier in the year and then season 2 came out in December), especially since it's now kind of my only comfort show since so many of my previous comfort shows were canceled. I love the story of these two friends and what it looks like to have a longterm super close friendship, and all the darkness that comes with that, as well as the beautiful moments. I found out, though, that this series is based on a book and what that ending is, and now I'm worried about the final season coming next year.
3. Sprung
This is the best show of the year that no one has heard of. Written by Raising Hope and My Name is Earl's Greg Garcia and set in the early days of the Covid-19 pandemic, it follows three prisoners who are released from prison because they are nonviolent offenders and have nowhere to go (because it's the pandemic and they were just in prison), so they go live with one of their moms, played by Martha Plimpton, the funniest, who wants them to help her steal. There's a lot more to it, but from the get-go I loved how it addressed the pandemic as well as the prison system. It's on Freevee (free!) so everyone can watch it.
4. Never Have I Ever
I watched the entirety of this series (so far) this year, so it's hard not to respond to the entirety of it instead of just season three, which aired this year. I'm also glad I started this show because it is so well written and acted, and it's so easy to care about all the very different characters. This almost became a comfort show (something to watch before bed that doesn't cause stress) as well, but it was too full of high school drama! My life in high school was certainly not that dramatic, and it seems as though everyone needs a boyfriend/girlfriend is just pairing off and then switching pairings. Luckily there is so much else going on with the plot and characters that I don't mind all the teenage horomones.
5. Abbot Elementary
Abbot Elementary is the next best new show of the year after Sprung (in my opinion, of course). It's just a good, solid show that takes the format of The Office and sets it in a Philadelphia public school, one that actually feels realistic. The characters all gel, the storylines are funny and original, and the Philly references are spot on. And it's amazing to me that there are so many children on this show, and they're all so adorable and funny.
6. Life & Beth
Life & Beth was a wonderful show about Beth, played by Amy Schumer, and her life–dealing with loss, her friends and family, and the ending of one romantic relationship and the beginning of a new one. I enjoyed seeing a show that focused on a woman my age whose world breaks apart in many ways. The tone was both slightly absurd and very real and honest, especially the flashback scenes in 1990s middle and high school.
7. The Wonder Years
This show really grew on me, and I've really missed it this fall (it hasn't returned yet after ending its first season in the spring). The latter half of the season continued with its familiar yet unexpected storylines, and I really loved the Bar Mitzvah episode, specifically. The show also does a good job balancing out the stories of all the characters while still keeping everything through Dean's ey
8. Russian Doll
I thought Russian Doll did a great job of doing something different in its second season, and overall I think it succeeded. To me the show is still very much defined by its first season time loop premise that it was hard at first to accept that something different and equally supernatural–time travel and inhabiting your mother's body–was happening to both characters, but the whole time travel conceit was so cool, especially for New Yorkers who ride those subway lines (although, come on, that subway station was NOT Astor Place). And the supernatural story was strongly connected to Nadia's emotional story, and that's what counts.
9. The Marvelous Mrs. Maisel
I finally caught up with this show and was able to watch this year's season in real time. There is so much that annoys me about this show and yet I still enjoy watching it. Not as much happened this season–it seemed like a transition season from the events of season 3 to what will, I think, be its final season coming TBA–but I still like seeing these characters figure things out. At this point, though, I wish this were Susie's show. Midge and her family are less interesting to me, with the exception of Joel, who is still an interesting character, although I wouldn't want him to be the focus.
10. And Just Like That
As I said last year, in the middle of the season (which spanned December 2021 – January 2022) this show definitely has some cringey moments, but I can't help it, it's fun to watch. I guess I've just always liked Carrie, and now that Big is gone I can enjoy her again. Any show that has me really looking forward to the next episode is a good show.
Runners Up:
Blackish
Blackish got a nice farewell season, and even though I didn't start watching from the beginning, I'm glad I stuck with the show over many seasons. I liked how the kids grew up, and even little Devonte finally got some lines.
Domino Masters
I don't usually watch game shows, especially when they're the reality-style game shows that have become popular. However, I knew someone competing, and I'm glad I watched. While I still hate all the reality show silliness they bring in to fill out the hour, the actual skill and creations of the contestants were really cool. I just wish the hosts added more to the show (with the exception of one who was an actual Dominos person) and they used that filler time to teach more about Domino building.

What We Do in the Shadows
What We Do in the Shadows probably would have made my top 10 again had I not watched so much other good and/or enjoyable TV this year. Every time I think this show has run its course I find elements to enjoy in the episodes. I think this show is a great contender for a more classic sitcom style in which the characters don't change over the course of episoodes–because they're vampires! The funniest parts of the show are the bits, or the situations for each individual episode. When they do longer arcs it doesn't quite work for me, possibly with the exception of Guillermo because he's the one human. Each season's finale moment has been a great kicker, and this season's was no exception.

Compare to Last Year's Rankings
Older Shows/Seasons I watched this year:
The Morning Show season 1 and season 2
Scrubs Season 1
The Marvelous Mrs. Maisel season 3
The Expanse Season 1
The Bold Type Season 4
Dickinson Season 3 (finished series!)
Firefly Lane Season 1
Fuller House Season 5 (finished series!)
Broad City season 5 (finished series!)
Never Have I Ever season 1 and season 2
New Girl Season 4
Moonlighting Season 2 rewatch
The Good Place entire series rewatch
Saved by the Bell Reboot entire series rewatch