Disclaimer: I only rank shows that I watch and I'm not a TV critic. Also, there are some spoilers. Read at your own risk…
Last year I watched a lot of TV and this year, not as much, although this list doesn't reflect the shows I was watching but didn't complete an entire season of yet (Brooklyn 99, Dickinson, Nashville, the Moonlighting rewatch, and some stray episodes of Holey Moley). Last year I watched 16 shows from 2019, and this year I watched 11 shows from 2020. Last year I also watched 8 seasons of series from previous years, and this year I watched 7 seasons from previous years, including one that I watched twice (with two different people), plus a PBS doc, so that evens out. There was a lot that came out this year that I wanted to watch but just didn't get to, but we'll see how 2021 goes. Last year I said that the only show I wanted to watch that year but didn't get to was Russian Doll and I did, in fact, watch that show earlier this year. This year I thought about TV in terms of what was comforting to me, and that was defined by 3 shows/seasons–Fuller House season 3 in the spring, The Babysitters Club in the summer, and Saved by the Bell in December. This year especially it helped to have shows that were light and nice before going to sleep.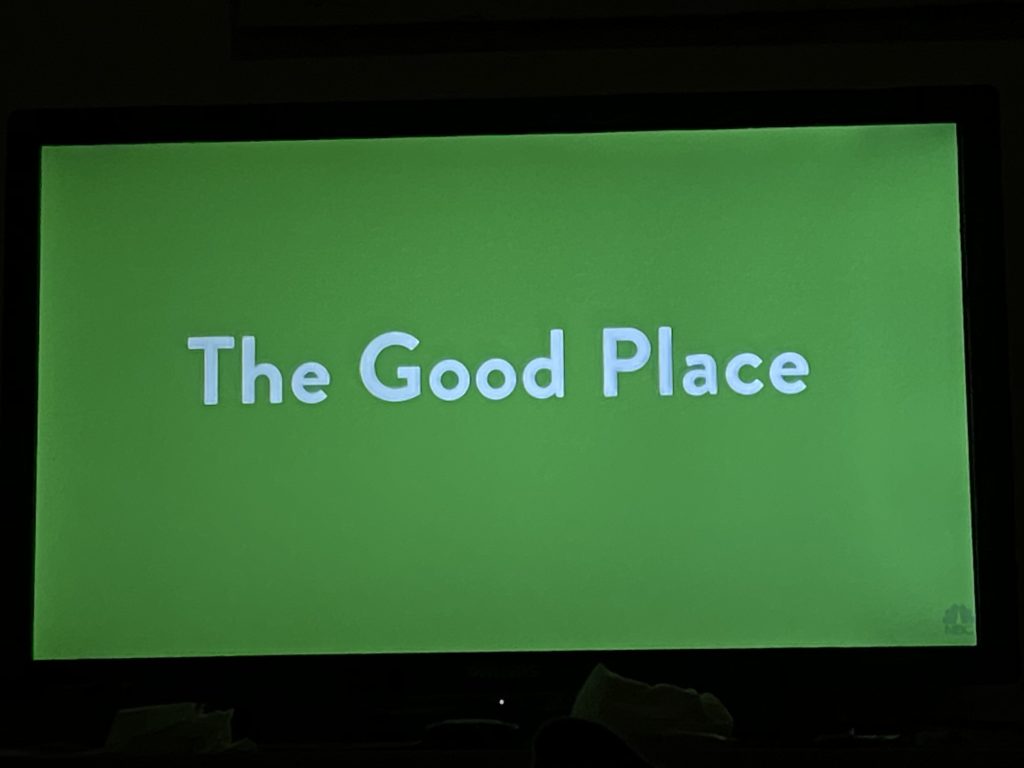 1. The Good Place
There were only a few episodes this year before the series finale, and last year I wrote that I wasn't sure where this could possibly end. But it ended so well! This was really one of my favorite endings to a TV series. I love The Good Place because it's my ideal version of the afterlife (even if they're still tinkering w/ it). Bad people aren't tortured/punished (OK maybe a little) but instead forced to really confront how awful they are. That's what I wish on my worst enemies: self-awareness. And then the finale was my ideal version of what happens at the end of the afterlife.
2. His Dark Materials
I remain so grateful for this series adapatation, especially because they continue to expand upon my favorite character from the books, Marisa Coulter. But I love every character in this story, and this middle book in particular, which I had pretty much forgotten, I'm realizing now was my favorite of the trilogy, I think. I just finished up this series, as the last episode aired in the last week of the year, and I don't know how I'm going to wait for the next season.
3. The Babysitters Club
I wasn't sure how this show could be set in contemporary times and still feel like The Babysitters Club, but they pulled it off! All the updates they made worked, as well, and the cast was spot on. I may be the age of the parents and not the babysitters (even though I still babysit, at least until the pandemic started), but this Babysitters Club definitely filled my heart this summer.
4. Saved by the Bell
I was thrilled when I heard that this reboot (or re-imagining, or whatever they are calling it) was good, and, sure enough, it was! It's nice to see Jessie and Slater a part of Bayside again, and Zack and Kelly showing up now and then as well, but I'm glad I'm just as interested, if not more interested, in the new Bayside teens. The storylines combine social issues with the fun schemes of the original, and, thank goodness, the new Zack–Zack and Kelly's son Mac–is not the main character.
5. Mixed-Ish
Another show with Mark-Paul Gosselaar, Mixed-ish continued to be sweet and funny in the latter half of its first season. The show dives into the character Rainbow from Black-ish and her childhood in the 1980s with her family and friends. Season 2 was delayed because of the pandemic, but they did film more episodes recently, so it should be returning soon.
6. What We Do in the Shadows
I loved the second season of this show as much as the first, and even with a few clunky episodes it was one of the more laugh-out-loud funny shows that I watched.
7. Shrill
I thought season 2 an improvememt over the first season, which I liked but didn't quite emotionally connect to. It was a plus that they made John Cameron Mitchell's character Gabe more interesting and had Aidy Bryant's character Annie making some good decisions more often than not. They also had an episode specifically for Fran, who is probably my favorite character.
8. Black-ish
Black-ish is one of the few shows that responds to current events, and I was pleasantly surprised to see that it seriously dealt with the pandemic… for two episodes. Then, weirdly, even though it was still dealing with other 2020 events and clearly in the present, the pandemic disappeared and Dre, who works in a fancy office, was back at work with no one wearing masks. It was extremely disconcerting. But the show still gets points were doing a couple real pandemic episodes, plus all the other good episodes they usually do.
9. Fresh off the Boat
I thought this show deserved way more of a send-off–I didn't even realize the last episode was the last episode! I could tell that they were winding things down this season, though, but at least the show ended decently. I'll miss it, Evan and Emery especially.
10. Zoe's Extraordinary Playlist
This show had a lot of issues, but there were still some nice moments–the deaf performers doing the dance number with ASL, the final episode dealing with the father's death. Maybe some of my issues with it–the portrayal of Zoe's workplace, the love triangle–will go away in season 2.


Runners Up

Modern Family
I can't believe I watched the entirety of this show from beginning to end. It was a show I didn't care deeply about but also couldn't quit–I needed to see it through to the end. There were some decent episodes here and there, but also a lot of treading water. I'm glad they could end it on a high note, and I'm also glad I don't have to feel compelled to watch it anymore.
Compare to Last Year's Rankings

Older Shows/Seasons I watched this year:
Russian Doll
New Girl season 1
Fuller House season 3
Broad City season 4
The Marvelous Mrs. Maisel season 2
Great News season 1 (twice)
Terrence McNally: An Act of Everyday Life (PBS American Masters)