Last year I saw 15 movies, a record high! I'm glad I brought my total up before movie theaters went away this year. Sadly I only saw 1 movie in theaters before the shutdown, and it wasn't even a new movie, so I guess this year I am segmenting my list of films a little more. This year I saw 1 movie in the theater, 7 new movies and older movies streaming from movie theaters, 18 older movies streaming, and 3 of the SXSW shorts streaming, all for a total of 29 movies! I'm glad that I saw a few new movies streaming and supported movie theaters this year.
I saw 8 new feature-length movies either in the theater, from theaters, or new movies streaming that would have been shown in theaters this year. 5 were big releases, and 1 of those was with my company as a field trip. 1 was at the IFC, 3 were from film forum, 1 was from Metrograph, 1 was from BAM, 1 went to Disney+ for streaming, and the other went to Amazon for streaming. 2 were older films and 6 were new.  I saw all but one of these movies for the first time.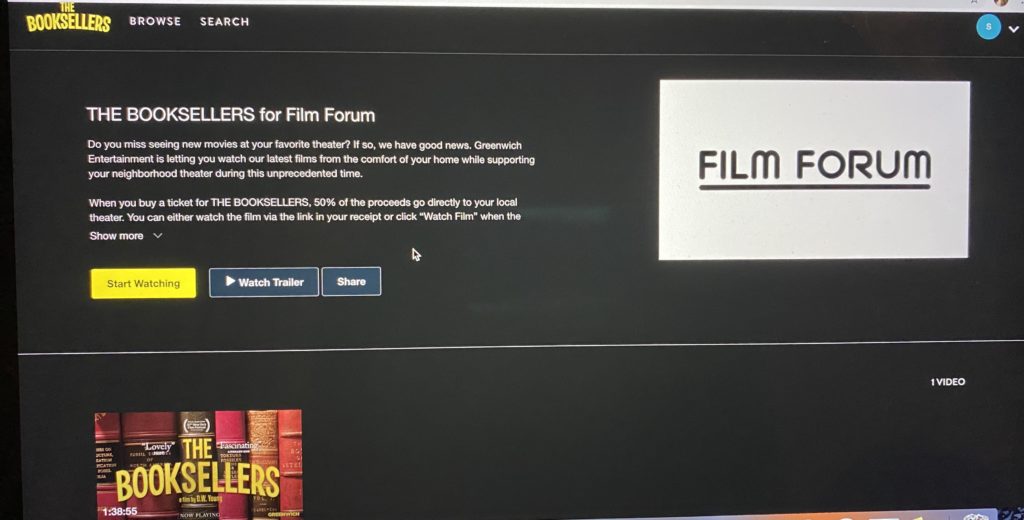 My rating system uses stars and equates as follows: 1=bad, 2=ok 3=really good 4=great.
My favorite new movies (4 stars) this year were:
Howard
Runners up (3.5 stars):
John Lewis: Good Trouble
Bill and Ted Face the Music
My favorite old movie I saw for the first time:
Home of the Brave: A Film by Laurie Anderson
My favorite old movies I loved seeing again:
Spirited Away
The (Not-So) Big List:

Movie I Saw in the Theater:
Spirited Away (IFC)****

New Movies and Older Movies from Movie Theaters I Saw Streaming:
The Booksellers (Film Forum)***
What She Said: The Art of Pauline Kael (Film Forum)***
Beyond the Visible: Hilma af Klint (BAM)***
Howard (Disney+)****
John Lewis: Good Trouble (Film Forum)***1/2
Home of the Brave: A Film by Laurie Anderson (Metrograph)****
Bill and Ted Face the Music (Amazon)***1/2

DVD/Streaming this year:
Late Night (Airplane)
Midsommar
Honey I Shrunk the Kids (Airplane)
The Lady in Number 6 (Amazon Prime)
Captain America (Disney+)
The Avengers (Disney+)
Iron Man 3 (Disney+)
Thor: The Dark World (Disney+)
Captain America: Winter Soldier (Disney+)
Gardians of the Galaxy (Disney+)
The Avengers 2: Age of Ultron (Disney+)
Into the Woods (Original Broadway Production)
Sunday in the Park with George
The Parent Trap (Disney+)
Hello Again
Parenthood
Bill and Ted's Bogus Journey
The Prison in Twelve Landscapes (Amazon)

SXSW 2020 Shorts:
Broken Bird
Just Hold On
The Claudia Kishi Club