The chorus I sing with, Essential Voices USA, has a concert coming up!
The Composer Speaks Concert Series
Austrian Emigres: Schoenberg, Von Trapp and the Power of Music
This program will explore the stories of Austrian emigres whose experiences have been captured in important musical compositions
Wednesday, March 30th, 7:30pm
The Di Menna Center for Classical Music
We are performing the music of Schoenberg and Rodgers and Hammerstein–a great combo! The program also includes a discussion with musicians and scholars, including Von Trapp family member Elisabeth Von Trapp and Schoenberg's son, Larry Schoenberg. Ted Chapin, president of the Rodgers and Hammerstein organization, will be there to speak as well. It's going to be a special program.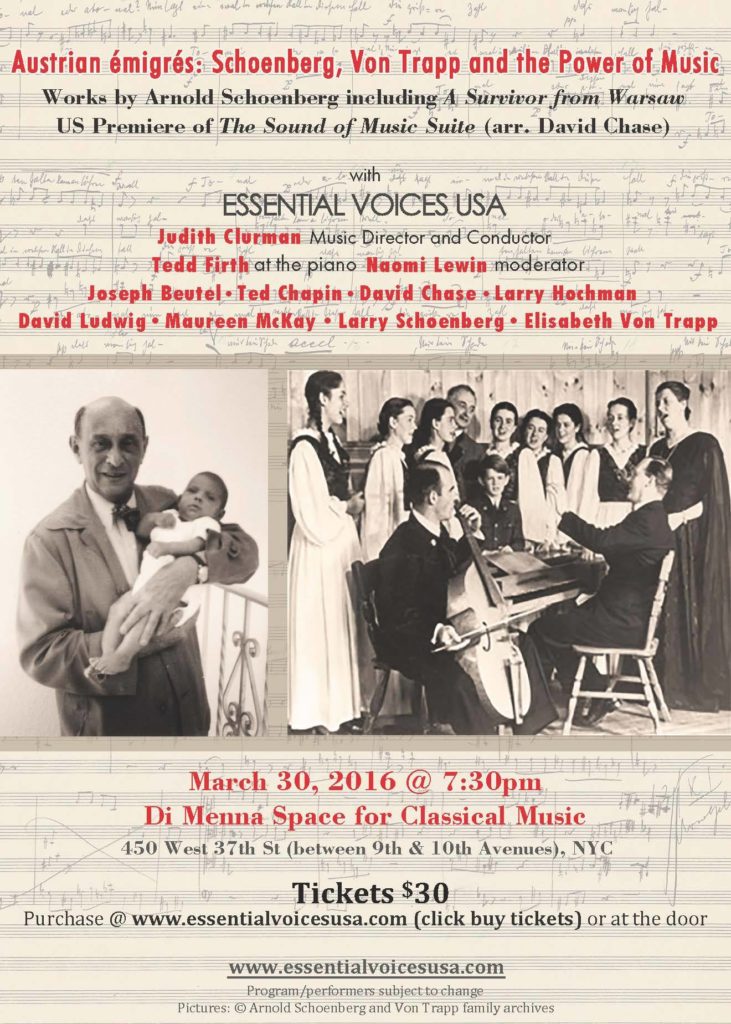 Program:
Schoenberg – Am Scheideweg, Op. 28 n. 1 – Brettl-Lieder (Cabaret Songs)
Schoenberg – Dreimal tausend Jahre, Op. 50A – A Survivor From Warsaw
Rodgers and Hammerstein – The Sound of Music Suite (US Premiere)
Speakers and Performers:
Judith Clurman, Conductor
Tedd Firth, Piano
Essential Voices USA
Naomi Lewin, moderator
Joseph Beutel, Ted Chapin, David Chase, Larry Hochman, David Ludwig, Maureen McKay, Larry Schoenberg, Elisabeth Von Trapp