My chorus, Essential Voices USA, is in the midst of a busy concert season.
Last week, we celebrated the great lyricist Sheldon Harnick (Fiddler on the Roof, She Loves Me, Fiorello!) at our Composer Speaks: Reason to Be Thankful event. Composers Larry Hochman, Roberto Sierra, John Glover, and librettist Kelley Rourke joined Sheldon on the stage for interviews after we sang their pieces.
Sheldon has been my favorite lyricist for many years, not only because his lyrics are the perfect combination of brevity, wit, and feeling but he is kind and always eager to talk to fans and fellow theater people. During our first conversation back in 2007 we discussed productions of Fiddler on the Roof in Israel, and every subsequent encounter has been just as meaningful.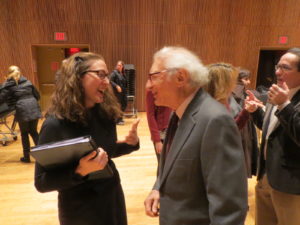 This week, my chorus sings with the New York Pops at Carnegie Hall for "Under the Mistletoe with Ashley Brown." We are singing a wide array of Christmas music from traditional carols to contemporary holiday hits. I'm looking forward to singing at Carnegie Hall once again with so many consummate musicians, both within my chorus and those with whom we are collaborating.
Tickets are still available for this concert here.