Shoshana's musicals include  Days of Rage, Lightning Man, Not Coming Back, A Story No One Knows, Sophia Venetia Voyager, and Soon Never.

Days of Rage

Book and Music by Hyeyoung Kim
Lyrics and additional material by Shoshana Greenberg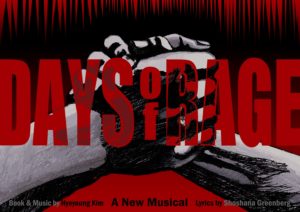 How far would you go for something you believe is right? Who is responsible for violence and how do you break the cycle? Days of Rage, inspired by the activities of The Weathermen/Weather Underground Organization and The Black Panther Party in the late 1960s and early 1970s, tells the story of Jean Avery, who leads the militant protest group The Weathermen after her brother leaves for Vietnam, and Fred Hayward, the leader of the Chicago chapter of The Black Panther Party, who tries to keep his fellow Party members from descending into violence. As Fred and Jean's paths intertwine, they grow closer and apart in a turbulent time of war, civil rights, and rage.
Hear some of the music on Soundcloud.
"Snow"
Green Room 42 Concert Concert 10.25.19
_______________________________
Lightning Man
Music by Jeffrey Dennis Smith
Lyrics by Shoshana Greenberg
Inspired by actual experiences, the musical Lightning Man tells the story of National Park Ranger and seven-time lightning strike survivor Roy Sullivan. Roy is relentlessly pursued, seduced, toyed with, adored, tortured and repeatedly struck by Lightning, appearing to him in the form of three very different but equally dangerous women, who may or may not also be his ex-wives. As Roy struggles to regain control of his life in the aftermath of the strikes, he attempts to strike back against a force of nature.
Lightning Man was featured at Ars Nova ANT Fest on October 24, 2011:
Video Clips: "Get Back," "Tattoo," "Beautiful Wedding," "Come Out and Play," "What Are the Chances," "Can't Shut Out the Storm"
Listen to the Demo on Soundcloud.
_______________________________
Not Coming Back

Book and Lyrics by Shoshana Greenberg
Music by Gaby Alter, Eric Day, Rob Hartmann, Gregory Jacobs-Roseman, Hyeyoung Kim, Julia Meinwald, Russell Stern, and more.
Go so far away that you stop being afraid of not coming back."
Have you ever asked out someone you really liked? Did you do that for the first time in your mid-30s? Writer and singer Shoshana Greenberg took this leap and lived to tell the tale. Not Coming Back, combines her own songs with her favorites and explores what happens when we have the courage to go after what we want and leave our old selves behind.
Listen to the song "Normal" on Soundcloud
Listen to the song "I Wish I Could Want" on Soundcloud
Shows: The Duplex Cabaret Theater on November 4, 2018 and September 16, 2019
_______________________________
A Story No One Knows
Book and Music by Hyeyoung Kim
Lyrics by Shoshana Greenberg
When you live alone and die alone in the city, what do you leave behind? A Story No One Knows is a dark romantic comedy that examines the humanity of people in their final moments on Earth, as seen through the eyes of those who come to clean up the mess of living.
A Presentation of A Story No One Knows at New York Theatre Barn's New Works Series. April 16, 2018. Directed by Devanand Janki.
_______________________________
Sophia Venetia Voyager
Music by Moon Hee Park
Book and Lyrics by Shoshana Greenberg and Rachel Jett
Fifteen-year-old Sophia is the only girl on earth. Her father left when she was little, and she lives with her mother who bakes the world into existence. Sophia wants to hear the music of the spheres, and with the help of her tutor, she builds a machine that opens up a wormhole into outer space, where she meets asteroids, gods, and black holes in her journey to find her music. Inspired by the Demeter-Persephone myth.
Kenita Miller sings "Dark Night" from Sophia Venetia Voyager:
_______________________________
Soon Never
20-minute Musical
Music by Julia Meinwald
Book and Lyrics by Shoshana Greenberg and Kirsten Guenther
Colby wants to be a Hollywood agent, but his job as an agent's assistant is in jeopardy when his boss's movie star daughter, Montana, visits the office and wreaks havoc.
Lauren Worsham and Manoel Felciano sing "Purple House" from Soon Never: